Helping your promotions grow ! 
---
We add flower and herb seeds to the mix in a way that retains their viability once planted, the paper will grow into a garden !

What a great way to promote and GROW your business.
All seed paper is regularly checked by biosecurities. Growing Memories has a licence to import this product. All seeds are free from impurities. 
Todays business is done differently a larger premium is placed on sustainability. Consumers expect companies to give back to their communities through resource conservation and impact reduction.
Our seed paper is biodegradable and grows into wildflowers it is crafted from 100% post-industrial, recycled paper and dyed with all-natural, vegetable-based pigments.
Products are printed with water-based inks and, when included, use corn-based packaging. Their production facility uses a 30kW solar power system powered by the same sun that makes our products bloom. There are so many ways to use Growing Memories products to promote your business or fundraise in a memorable way.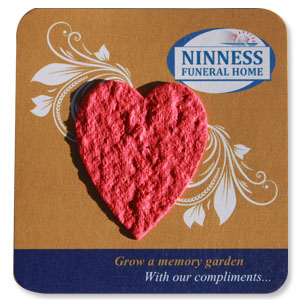 Would you like to order? 
Our Seed Paper promotional items are custom made to suit your business or event. If you would like to order please choose your product from the list on the left click "enquire about this product" and then under details let us know the paper type, colour and shape you are wanting

Please note: All promotional items require a min of 2000 per order 
---
Information for custom ordering: